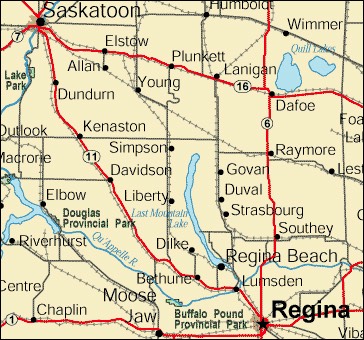 A piece of Saskatchewan History

The History of Wm. Ewart Greenfield (Grandfather Greenfield) as told by: Vernon Greenfield, updated and posted to the web By Douglas Greenfield.

A piece of Saskatchewan History from Gibbs, Bulyea, Strasbourg and Govan.
Wm. Ewart Greenfield was born in Manchester, England.
During his younger years he worked with his family in their green grocery and dairy products shops. In the early spring of 1905 he and his brother George sailed from Liverpool, and upon arriving in Canada boarded the Colonist train for the long trip to Regina.

The trip north to the Doege farm in Saskatchewan was made by wagon and after staying overnight they continued their journey on foot to the homesteads of their brothers. Joe and Wilfred, having arrived two years previous, had built a mud shack with a pole and a sod roof in preparation for their arrival. The rest of the family were to arrive later.

In order to gain some farming experience, Ewart worked on farms in the Pense and Keystone areas for the next two years. It was during this time that his parents, sisters, and uncle Ted Greenfield arrived with all their possessions. This included a piano, which proved to be a great joy to them and the community during the lonely years that followed.

In 1907 Ewart homesteaded on section 30-22-21. He broke and worked the land with a combination of horses and oxen. In 1916 he married Etta Ferguson from Yorkton who was one of the early school teachers at Stoneycroft.

In 1919, the family that now included sons Vernon and Frank, moved west from the alkali land of section 30 to the northwest quarter of section 23 where new buildings were put up. The west half of section 26, which was Hudson Bay land, was also acquired. It was here that brother George with wife and family returned after World War One. Also, Ewart's only daughter Dorothy and George's son Owen were born with the help of Mrs. Campbell. Mrs. Campbell was Mrs. Joe Greenfield's mother and well known for bringing many babies of that era into the world.

The family remained here throughout prairie fires, threshing machine fires, stackyard fires, and the depression. Had it not been for a trusted water well that supplied water to the neighbourhood with an unending supply to those friends (both men and women who came from miles around to form bucket brigades), the buildings would have been wiped out! The neighbours supplied food and refreshments to the weary fire fighters throughout the nights. It was times like this where the true spirit of homesteaders was shown, and will never be forgotten.

Picnics, sports days, dances, Whist and bridge drives added tremendously to the entertainment and lives of the early settlers. If there wasn't anything planned, friends and neighbours would get together and form their own sports teams to challenge other local teams. This went on until sports days and picnics were organized in practically every district. These were well maintained gala affairs and included all types of popular sports and social events for all ages. At the Mareiton picnic at Glen Harbour a mixture of popular sports, plus Scottish games, complete with pipes and kilts, were enjoyed at the Scotch picnic of the Caladonia Club at Gibbs. These events were always finished off with a dance that went on into the night and often part of the next day.

During the winter months, card parties, concerts, dances and often a combination of the two were very popular. They were often held in larger homes and barns in those days but as the province became more heavily populated, they were moved to schools and halls. Travel was no object. People drove their rigs for miles to have a good time despite the weather and road conditions.

In the late 30's Vernon and Frank, along with Norman Cochrane followed in their father's foot steps, playing for dances from Longlaketon to Pengarth and sometimes across the lake to Keddleston. They travelled by car in summer and used a closed in bobsleigh in the winter, usually for a dollar apiece, playing from 9 PM to 3 AM.

Ewart & Etta continued on and were very involved in local affairs. He served on school boards, Municipal committees, social and sport committees and with the Saskatchewan Wheat Pool. He played piano for the church and concerts and at one time, with Jimmy Cochrane, took his own piano around the country in the sleigh to play for dances.

He was also interested in sports, played soccer and broomball, where at one game, he had his teeth knocked out by a well swung broom. He followed the local ball teams along with International and National soccer, football, baseball and hockey. In 1944, because no farm help was available, the farm was sold to Howard Morton and they moved to Edmonton where he continued to work until his death in 1951. After his death, his wife Etta moved to Vancouver to be near family, and passed away in 1978.

Near the beginning of World War Two, both Vernon and Frank joined the Air Force. They returned in 1942 to be married; Vernon to Miss Gladys Ashe of Glentworth, another Stoneycroft school teacher, and Frank to Miss Marjorie Hampton of Govan. The following year, Dorothy was married to Douglas Cameron, who was also in the Air Force.

After the war, the younger family did not return to the area to live. Vernon and Gladys Greenfield made their home in Vancouver B.C. and Vern worked in the Automotive trade. They had one daughter, Brenda, now married and living in Melbourne Australia, and one son, Ronald, now married and living on Vancouver Island. Vern and Gladys enjoyed their beautiful home near Deep Cove in North Vancouver until Vern's passing in 2005. Gladys has since moved to be near her son Ron at Duncan on Vancouver Island.

Frank and Marjorie Greenfield homesteaded at Eaglesham, Alberta after the war and had one son, Douglas, presently living on the Sunshine Coast of B.C. and one daughter, Sylvia, living in Edmonton. Frank continued farming until an unfortunate ultra light aircraft accident in 1972 forced his retirement. After that, Frank and Marjorie move to the Coast for a few years and finally settled in Kelowna in the Okanagan Valley of B.C. Marjorie passed away in 1982. A couple of years later Frank met Eva Foster in Kelowna and they enjoyed many years gardening and travelling. After Eva's death in 2000, Frank lived with his son Warren and his wife Maggie in northern Alberta until his final move to the Sunshine Coast of B.C. Frank enjoyed the mild winters and family on the Sunshine Coast until his passing at age 89 in 2008.

Dorothy (Greenfield) & Doug Cameron remained in the Royal Canadian Air Force after the war and served both in Europe and in Canada. Upon Doug's retirement, the family moved to Delta, B.C. where they began a home construction business. Dorothy and Doug had three sons; Murray, Raymond and Jim. The Camerons lived in the home they had built for themselves in Delta until 2008 when they finally moved back to their home province again. Doug Cameron passed away the summer of 2008. Dorothy continues to live in Regina, happy to be back among childhood friends again.